Dumpster Rentals for Projects of All Sizes
NO HIDDEN FEES!
At AAA Roll Off Rentals, we will provide you with the roll-off dumpster rental you need to handle the waste from your next project. Our roll-off dumpster equipment is available in various sizes for you to choose from. Whether your project is as small as cleaning out the attic or you're remodeling a whole home, we have the right size dumpster for you. We keep our prices low and our standards high. Excellence in customer service is the cornerstone of our company and we're proud to serve Peoria with reliable dumpster rentals. From easy online reservations to on-time deliveries, you can count on us to handle all your waste removal needs with the care and attention to detail they deserve.

AAA Roll Off Rentals is family owned and operated locally, so you can feel good knowing you're working with a company that is as invested in the community as you are! Our 10-yard , 13-yard , 20-yard, and 40-yard roll-off dumpsters are the perfect tool for projects of all types, from demolitions, landscaping jobs, renovations, or residential clean-outs. No matter what type of project you have or what type of junk, you can rely on our durable containers and unparalleled customer service to handle it all for you. Our straightforward process allows you peace of mind that you can get rid of your junk and waste quickly and conveniently and without any stress or hassle. Book your dumpster rental now or give us a call for more information - we're here to help!
View Dumpsters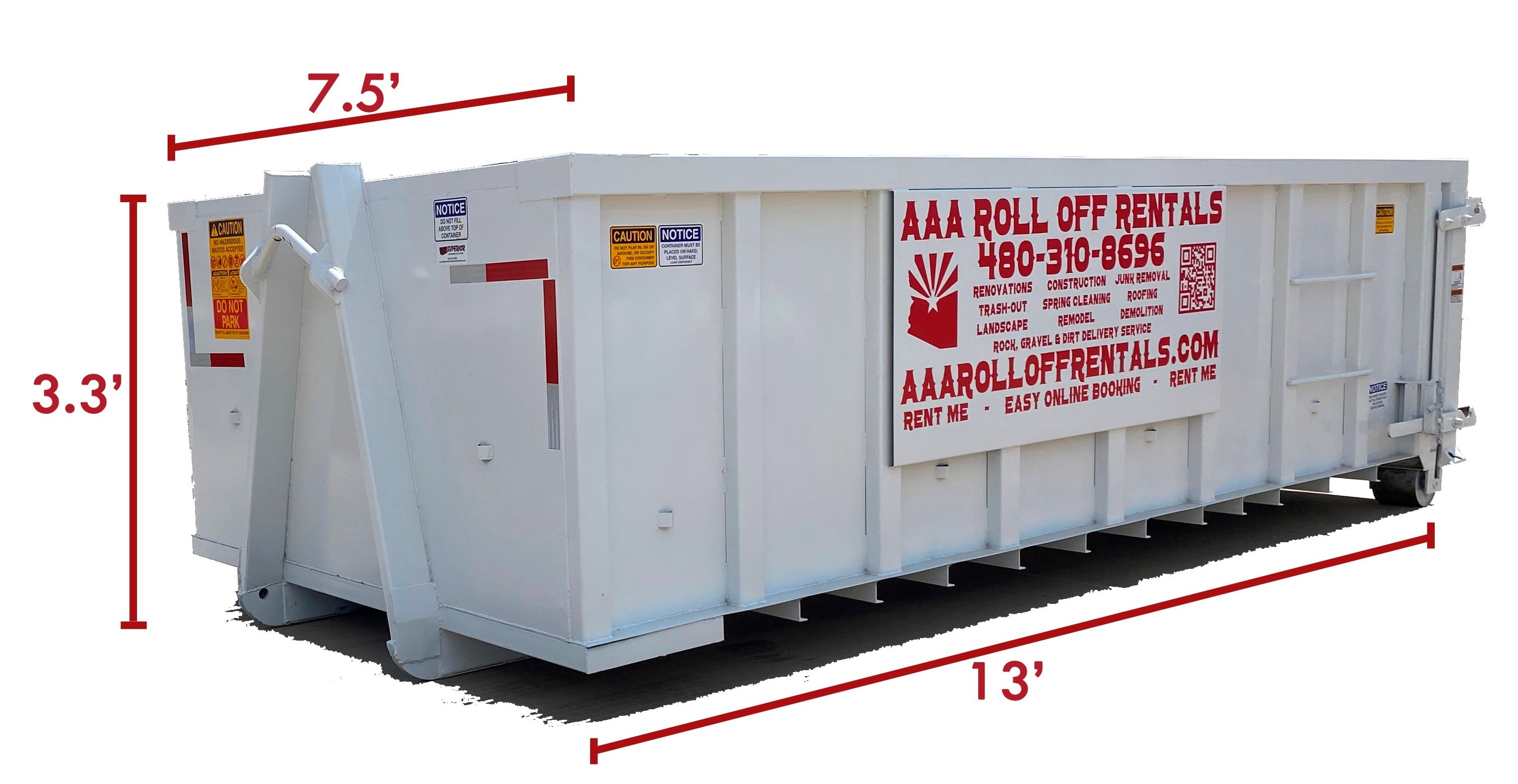 10 Yard Dumpster
Our 10-yard dumpster is recommended for residential garage/attic cleanouts, flooring jobs, single kitchen/bathroom remodels and other projects of similar size. This dumpster sits at 3.3 feet tall and has a large swinging door, so loading small furniture into it is no problem at all!
Online Pricing
20 Yard Dumpster
Our 20-yard dumpster is recommended for estate renovations, medium to large landscaping projects, commercial office cleanouts and other projects of similar size. This dumpster is perfect if you are working on a small construction or demolition site. The 20yard is 4.3 feet tall with 7.5 foot swinging door to make loading a breeze!
Online Pricing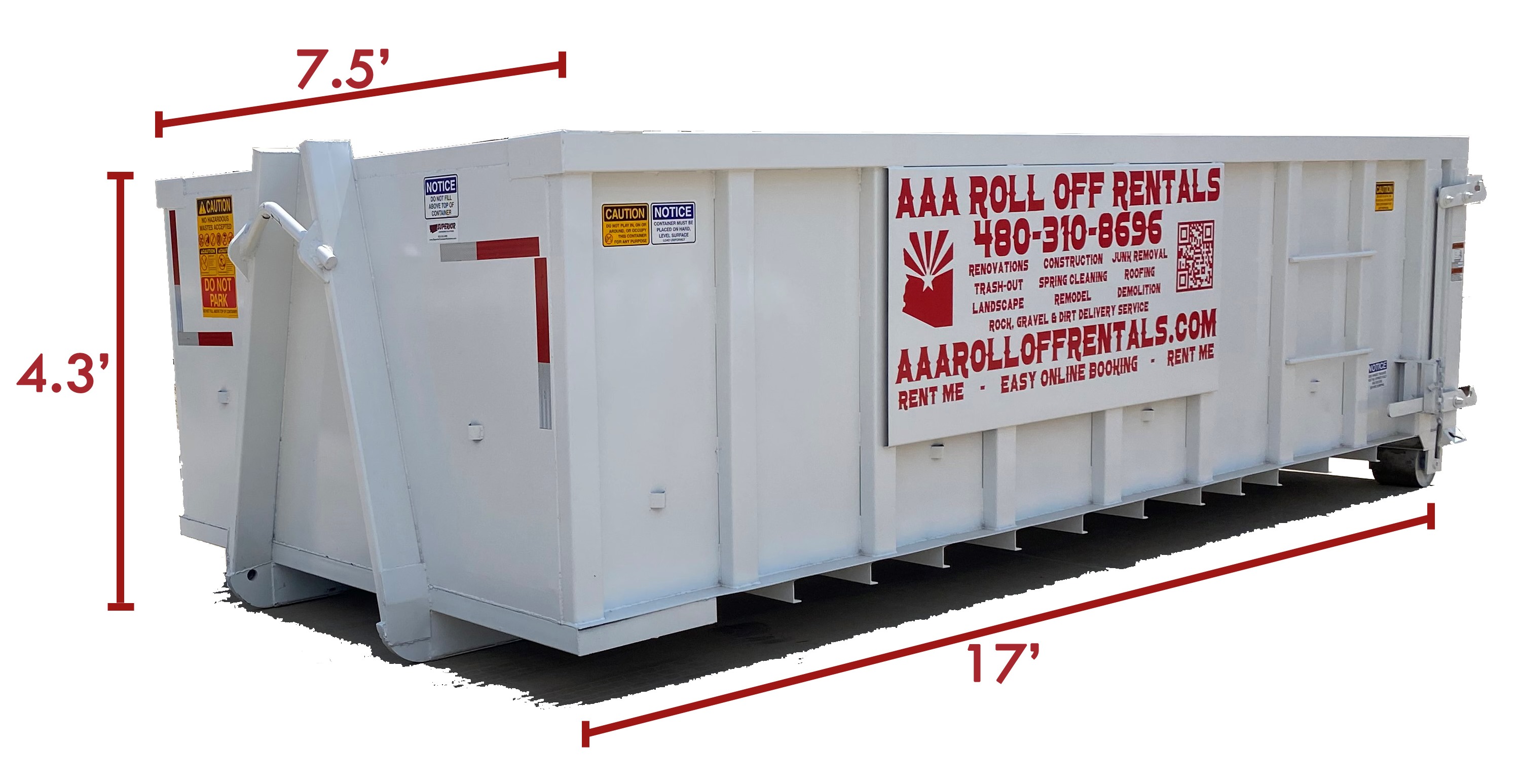 Book Your Dumpster Rental Today!
Are you ready to book your roll-off dumpster? The process of ordering with us is easy with our secure online system with the following simple steps:

1. Choose the roll-off dumpster size you require for your project and click add to cart.
2. Select the date you need your container to be delivered from our calendar.
3. Fill out your contact, delivery, and payment information securely in our system.
4. We will email you a receipt with all your booking information after your payment is processed.
5. Our team will be in touch within a few days before the scheduled delivery to schedule a convenient delivery window.
Why Choose AAA Roll Off Rentals for Your Roll-Off Dumpster?
When it comes to choosing a dumpster rental company, It is essential to choose one that will cater to all your needs. Renting a dumpster shouldn't be complicated or stressful. We believe it should be simple and hassle-free. In order for your project to run on schedule and be successful, you need a company that is reliable. That's exactly what you'll get when you choose AAA Roll Off Rentals. We always deliver our roll-off dumpsters on-time and safely. Whether you need a bin in your driveway to assist in the cleanup from a remodeling project or you're a contractor who needs a reliable container on your next job site, we'll make sure you have what you need when you need it.

We have a team of dedicated professionals who have years of experience in the dumpster rental business. We're professional, courteous, and always willing to go the extra mile to make sure our customers have exactly what they need. We care about your project, which is why we work hard to make sure you get your dumpster rental on time. Furthermore, you can count on us to pick it back up as soon as you're finished with it. All you need to do is let us know you're all set and we'll be on our way to come to take care of it for you. We always dispose of your waste properly, working closely with local landfills to keep them clean and sustainable for the future. We even donate or recycle your waste when we can.
Call Us Today!
Contact our team today at AAA Roll Off Rentals to set up your dumpster rental delivery. We're here to answer any questions you may have throughout the process and we look forward to working with you, helping you reliably dispose of your junk and waste.

Book your dumpster rental from AAA Roll Off Rentals today!
Call Now!
Our Service Area
Proud to Serve The Following Areas
If your project site is beyond that radius, just let us know! We frequently deliver even farther out, and special accommodations can usually be made to suit your project - and your wallet.
NOTE: Extra fees may vary depending on how far you are outside our service area.